Lenuo Sunshine Shining Intersola EUROPE Exhibition
---
On May 11 ,   local time , the Intersolar International Solar Energy Exhibition in Germany was grandly opened at the Munich International Exhibition Center. This exhibition is the largest and most influential professional solar energy exhibition overseas . The area is about 100,000 square meters , the number of exhibitors is about 50,000 , and the number of exhibitors and participating brands is about 1,450 ; Linuo Sunshine brought a variety of ultra-efficient module products to the show, and fully demonstrated the company's latest products for different application scenarios The solution attracted many people in the industry to stop and pay attention, and became the focus of this exhibition. >Universe Z-550W series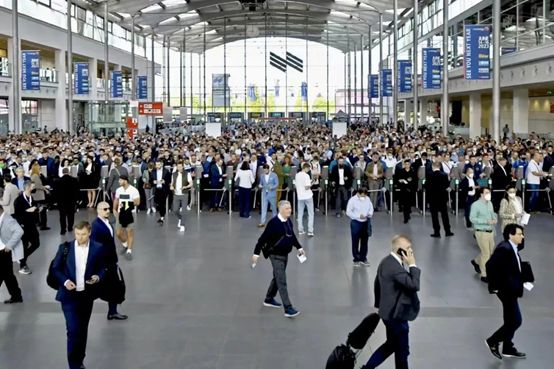 On May 11 , local time , the Intersolar International Solar Energy Exhibition in Germany was grandly opened at the Munich International Exhibition Center. This exhibition is the largest and most influential professional solar energy exhibition overseas . The area is about 100,000 square meters , the number of exhibitors is about 50,000 , and the number of exhibitors and participating brands is about 1,450 ; Linuo Sunshine brought a variety of ultra-efficient module products to the show, and fully demonstrated the company's latest products for different application scenarios The solution attracted many people in the industry to stop and pay attention, and became the focus of this exhibition.
>Universe Z-550W series
Universe Z-550W series modules have passed the German TUV photovoltaic module IEC test, including insulation test, outdoor exposure test, hot spot durability test, mechanical load test and many other tests, and obtained the IEC 61215 photovoltaic module performance standard formulated by the International Electrotechnical Commission and IEC 61730 Two certifications of photovoltaic module safety standards, product reliability has been certified by authority, and obtained a passport to enter the international market. As the latest flagship product of Linuo Sunshine this year, it has the core advantages of high power, high mechanical load, high weather resistance, low temperature coefficient, and low BOS cost. The module efficiency can reach as high as 21.3% , and it is widely used in large ground power stations.
> Universe B-380W Series
Universe B-380W series module is a high-end product specially designed for the household market. The product is extremely black and beautiful, with outstanding visual appearance and perfect integration with buildings. The extremely low LeTID performance has won the warm favor of many customers. This series has become the mainstream solution for household photovoltaics in Europe and America.
> Universe S-275W Series
Universe S-275W series modules are the latest research and development products of Linuo Sunshine. Many performance indicators of the products are superior to the industry level. Its unique dimensions are easy to install and carry, and can maximize the installation area of ​​the project, bringing more Excellent LCOE cost and long-term reliable power generation guarantee.
Carbon neutrality has become a global consensus and mission, and more than 140 countries and regions have made solemn commitments. In Europe, the booming photovoltaic projects in Europe in the past two years have become an important local market highlight. Linuo keeps up with the market trend, gives full play to the advantages of manufacturing, and cooperates with partners in technological innovation to help Europe transform to low-carbon and clean, and create a better life with clean energy.
---